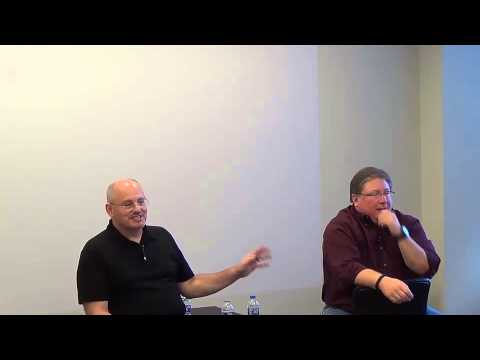 "There are lots of ways to be an entrepreneur," reflected Drew McLellan, owner of McLellan Marketing Group (MMG) and nationally recognized guru of all things brand. "Twenty years ago I did it the traditional way by starting from nothing and just grinding it out, this time I bought an existing business," he said of his acquisition four years ago of what would become Agency Management Institute, a wholly owned subsidiary of MMG. McLellan made his comments as the featured guest of the July rendition of the Business Innovation Zone (BIZ) luncheon.
The marketer of record for the BIZ from its inception and a much heralded annual speaker, typically on the latest trends in marketing, McLellan spoke this year of his own highly successful experiences as a start-up, a topic which has come to take center stage in the BIZ sessions with the burgeoning Des Moines start-up community. Under initial questioning from Mike Colwell, Executive Director of the BIZ, and subsequently from the capacity audience gathered at Start-Up City Des Moines, McLellan reflected upon the challenges and solutions of his personal entrepreneurial experience, and found some time to comment on the state of marketing trends as well.
"I'm a reluctant entrepreneur actually," explained McLellan. "I always thought I would run an agency some day, it just never occurred to me it would be my own," he confided, adding that in retrospect, like many entrepreneurs he is fairly opinionated. "In all fairness I was probably not a great employee and today I would be the worst employee known to man, in fact I would fire myself," he said invoking humor while giving expression to a subtle but quintessential element of the entrepreneurial spirit, the conviction that you can do it better if given the freedom to try.
Like many talented individuals who set off to find their fortune under their own banner, McLellan admits to his close encounter with the e-myth syndrome where the reality of the entrepreneur's lack of business acumen threatens to de-rail them early. "I didn't know anything about running a business," he recalls, "and learned the hard way for a couple of years."
Noting that many people go into agency work because they find the business side of business repugnant, McLellan shared what for him was a resource of the highest order. Colwell and McLellan both extolled the virtues of peer forums and networking organizations that bring together leaders in a particular field or position whose companies are not in direct competition and encourage frank and open conversations and sharing. Whether CEO's from different fields or from the same field and different markets, the shared wisdom and the honest feedback can ameliorate the inherent risks of entrepreneurship.
McLellan was fortunate to find such an organization led by a former agency owner and joined a recurring roundtable of his peers from across the country. With a well-established and successful agency and with McLellan becoming a brand in and of himself on the national speaking circuit it would have seemed that MMG had successfully transitioned into a stable post-start up position when opportunity arose. The owner of the association opted to retire and offered the business to McLellan. Soul searching, consultation with fellow members of the association and the advice of a business acquisition expert led to his purchasing and rebranding the business as Agency Management Institute in 2011, bringing it under the umbrella of MMG.
"It's exciting, it's fun and rewarding and it enhances my existing business," he says in retrospect, and with an eye to the future the institute, which is not itself a full time job, beckons as a transition into a distant retirement.
Inevitably when an audience questions McLellan the topic turns to brand and marketing trends, and such was the case with the balance of the hour long session. Among the highlights:
Branding: The most successful brand will authentically represent who you truly are while at the same time resonating with your "sweet spot" customer.
Agencies and Start-ups: Recognizing that budget and time constraints as well as other factors are a challenge for most start-ups McLellan urges a phased approach. He suggests an initial consultation with an agency might be wise to help sketch out a plan as well as to introduce an outside perspective. While many start-ups can implement their own marketing, the perspective an agency can bring is often worth the investment of a quarterly or annual review and consultation.
The current blend of traditional and digital marketing: "Today, most of the agencies that did not choose to engage in the digital space no longer exist," he said of a scene that is trending to 75% digital and 25% traditional marketing. While a few years ago the trend was to exclusive digital marketing, an equilibrium has emerged that maintains a traditional component and those agencies who sprung up only to service the digital realm have had to make adjustments to meet the needs of the market.
The changing face of agency staffing: Along with the trend toward digital and hastened by the impact of the recession on the agency business, contract and remote employees have become fairly commonplace. "I have one employee, whom I know very well, but we have never met face to face," shared McLellan, observing that in response to the recession many agencies have utilized contract workers as a means of moving their largest fixed cost, labor, to a variable scheme.
The view of Des Moines: In what has become a common theme of these luncheons, perhaps owing to the perspective of the BIZ, the question of Des Moines' place in the start-up world arose. McLellan, whose business found him on 125 planes last year is something of an ambassador for the community and can reflect on its changing image across the country. "There has been a concerted effort to put Des Moines on the map nationally," he said of the work of the Greater Des Moines Partnership and others. "And I do think the world is changing its view of Des Moines, for the most part thinking of it as a hip and happening community." As well it should.