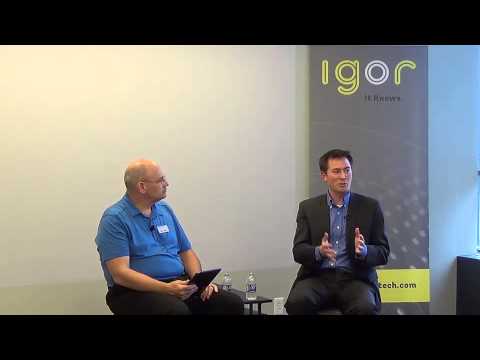 "I've been doing technology for as long as I can remember, my dad gave me a programing book and I've been at it ever since," recounted Dwight Stewart, serial entrepreneur, Founder of Igor and the June interviewee at the Business Innovation Zone's (BIZ) monthly luncheon and networking session.
Working towards a Computer Science degree at Iowa State, already with literally thousands of hours of programming to his credit, Stewart would launch the first of his many technical endeavors in the form of CollegeRoute.com, a social networking site similar to another then upstart network called Chegg. Choosing to incubate his product while keeping college his primary focus, Stewart fell behind the rapidly evolving Chegg and struggled for some time after his launch to catch the rising star which has since gone on to great success.
"The experience taught me you have to have the right support system. At that time mine was telling me to stay in school and get a degree so I could get a job working for someone else," he told Mike Colwell, Executive Director of the BIZ and Stewart's questioner for the first half of the program.  The lesson of support systems, networks and relationships would weave like an Ethernet cable throughout Stewart's message to those gathered hoping to learn from his experience.
While CollegeRoute.com was a less than stellar performer, it would be the exception to the rule and Stewart's next endeavors would earn him serious credentials in entrepreneurship, technology and sustainability.  Quality Attributes Software(QAS), which he co-founded, would achieve international brand recognition as a software as a service product that monitored and managed the green and sustainable  aspects of buildings, claiming such distinguished clientele as the U.S. Government  in Washington D.C. where every building except the White House was managed by QAS.  After leading the company to the multi-million dollar level, Stewart and his partner exited and Stewart looked for the next enterprise, which would come in the form of Igor, a revolutionary plug and play lighting system that combines control and power over internet. Continuing Stewart's commitment to sustainability the product can cut energy usage and costs as much as 60 to 70 percent in commercial lighting applications.
With Igor rolling out and Stewart soon off to the CleanTech Open, known as the American Idol for clean technology entrepreneurs, he sat down with Colwell and shared during an informal hour-long conversation.  Among the themes:
People, People, People.
Throughout his comments networking, relationships and connectivity were cited as critical components to business success.  "In real estate its location, location, location, but with business, it is people, people, people. It is the people that form your team, your support system and your customers," imparted Stewart. Partners and investors are extraordinarily important, he would share, noting that if you are going to release total control of your company, you want to truly understand and be compatible with those to whom you relinquish that control. "Having the right people, with whom you are compatible and conversant is so important," he would reiterate in driving home the importance of a support system.  "Whenever you are panicked, that is when you want to have someone to talk to first before you take action," he said suggesting one should never act on emotion.
Building a team is no less critical. "I think about aptitude, attitude and character," he explained, observing that the necessary knowledge is a moving target in the technology industry, but those three traits form the foundation of a team that will find or make the path to success.
Imitate Nature
Arguably green since before green was fashionable, Stewart looks to nature as a metaphor for business development.  "Things that are allowed to happen organically are probably following the easiest path," he explains. Offering the example of a sapling that evolves into a tall tree he argues that, particularly with a product that has a physical component, rushing to market and growing tall before the roots go deep can have negative effects which will in turn impact unfavorably a company's brand equity, which once damaged is very difficult to repair.
Working among the Giants
QAS worked with such large companies as Johnson Controls, Cisco and Siemens. "When you are a small mouse dancing with a not so gentle giant, you have to stay a step ahead so that you don't get stepped on," Stewart offered. He also suggested that the small company, once through the door, should remain benign and non-threatening while offering a value-add ancillary to the large company's space. Finding a sweet spot that does not threaten or appeal as a potential absorption but that does add to the giant's margin is the key to survival and success in those relationships.
B2B or B2C
Igor partners with established lighting companies to serve as sales, distribution and implementation agents for the software. While this means relinquishing a significant percentage of the final markup, Stewart cautions against failing to see the upside of these arrangements. The need to hire and manage a sales force, while waiting for it to develop the relationships and networks that are needed in the appropriate vertical markets can cost far more than the percentage yielded. In addition Stewart points out that as you add partners and their individual sales curves grow, yours begins to grow logarithmically.
Des Moines
Although not a native Iowan, Stewart hails from the Midwest and speaks well of the region and his adopted Des Moines as a place to incubate a business.  Both Stewart and Colwell argued that Des Moines was replete with individuals that could well play that support role that Stewart so highly valued, and do so with a genuine friendliness that might be absent on the coasts. Beyond the abundance of talented people to build a team and a support system, there is an appealing culture. "If you want to build a company on a Midwest culture, then you come here. If you are looking for a fast paced cut throat culture, there are places for that too."