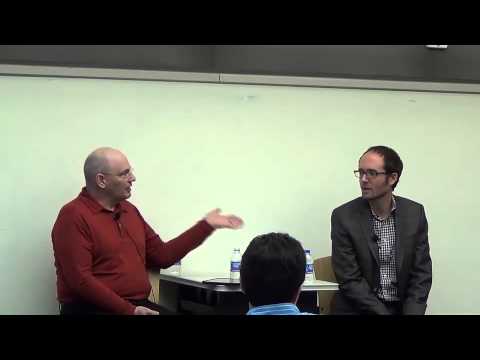 "It was an accident actually," quipped Matt Ostanik, CEO of FunnelWise, as he spoke about his initial venture into entrepreneurial territory. "I stumbled into it as I was frustrated with something in my profession and I felt there had to be a better way." Submittal Exchange, a highly successful construction communication software company was the better way he found although the process took a bit longer than expected. "I was on record, to my wife, that I would be done with the project in 2 years, but of course it was more like 10." Still, it was 10 years well invested as Submittal Exchange was ultimately acquired by Textura Corporation and Ostanik, the architect turned entrepreneur went on to become a corporate executive.
"I discovered I liked creating things," said this still licensed architect of his decision to leave Textura and start another venture. "I guess there exists a certain synergy between architecture and building businesses," he postulated. His observation underscored the fact that two of the last three guests of the Start-Up Stories series began as architects and went on to become successful business builders.
Speaking before the January iteration of the Business Innovation Zone's Start-Up Stories, Ostanik, now a bonafide serial entrepreneur, would speak less of Submittal Exchange and more of his current venture FunnelWise, as well as the differences in his approach to the two ventures and the lessons therein for other would be entrepreneurs.
Taking its name from the traditional business view of the sales and marketing process as a funnel, FunnelWise integrates with Salesforce.com and marketing automation software to bring an alignment between the all too often disparate and disconnected silos of marketing and sales within a company to support best practices for successful revenue generation. Some of the similarities, differences and lessons were explained by Ostanik while fielding questions from Mike Colwell, Director of Entrepreneurial Initiatives of the Greater Des Moines Partnership as well as members of the audience.
Frustration as the mother of invention
Like Submittal Exchange, FunnelWise grew from Ostanik's exasperation that no such tool existed. "Sales is both an art and a science, and it seemed that in my previous position I was spending half of my time or more managing Excel spreadsheets," he said of the genesis of FunnelWise.
Not just your frustration
"I got lucky with Submittal Exchange, I built something I wanted and it turned out that others wanted it too," he shared of an approach that he does not endorse and did not use for FunnelWise. The creation of FunnelWise was a very deliberate market research driven process involving more than 100 interviews of potential customers before any product development. Next came a mock-up process of a basic product that was then reviewed by the 30 most interested of the initial interviewees, and only after that feedback did the first line of code get written. "I was afraid people would not talk to us, but if you ask about their pain points, they are happy to tell you all about their frustrations," he said of the value in the market research process. As a result of this approach, the first customers are now awaiting the products release.
Obsess over the right details
"In my first start-up I did not know which details were important so I obsessed over all of them," he explained admitting to a certain level of micro-management. "The reality is that in any business there is a really small set of things that truly matter and you have to be perfect with those and the other things don't matter that much," he said shaking off the professional proclivity of an architect to become mired in the minutiae.
The right details
"From my perspective, the ones that really matter the most right now are getting the right people on board and shaping the right culture," he shared, noting that with Submittal Exchange he tended to hire the entry level first but that with FunnelWise he his bringing on the leadership team first and letting them build out the staff.
Shaping brand and message follows as a priority not only to properly identify them in the marketplace, but also to attract the right people to join the team.
And of course creating a technology that is powerful, intuitive and addresses the pain of their clients is a detail worthy of at least some level of obsession.
Know your sweet spot
FunnelWise enters an already crowded Customer Relationship Management software field with a focus on aligning the efforts of marketing and sales and providing valuable real time data to business leadership. When asked if the goal was to develop into a fully integrated one stop shop for business communication both internally and externally, Ostanik said no. "The reality is a lot of companies employ a number of tools, and while we will likely develop the ability to integrate with some of them, for now our focus is on our sweet spot." As Ostanik's history has proven out – knowing your sweet spot can yield some pretty tasty and profitable results.