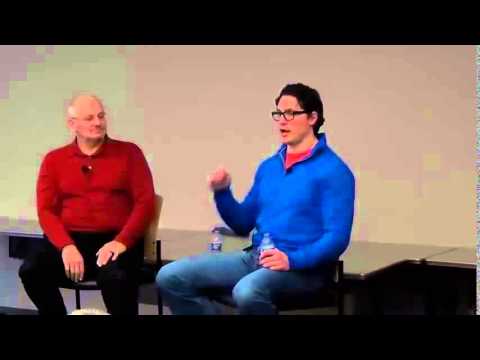 "I was the youngest person on the team so they assumed I knew the most about technology. It turned out that I did but only because I could navigate my way around Excel," quipped John Jackovin, Founder of Bawte and guest speaker at the November iteration of the Business Innovation Zone's Start-Up Stories. Jackovin was recalling his early employment with a series of consumer products companies after the completion of a marketing degree from the University of Iowa. Over time and through circumstances Jackovin became more involved with technology oriented projects, eventually becoming conversant with developers and in turn with code itself and the rest as they say, is history, with him embarking on a path of serial entrepreneurship which would eventually lead to his latest adventure, Bawte.
Characterized as a "platform that revolutionizes product support and the entire post purchase experience" while serving as a consumer concierge, Bawte really began in 2011 with the purchase of a Yamaha keyboard for his daughter. "I opened up the box and out came all this paper," he recalled of the warranty information and product registration card, all of which, like so many of us, he simply tossed. Relating the event to Mike Colwell, Director of Entrepreneurial Initiatives for the Greater Des Moines Partnership and his questioner before a capacity audience, Jackovin shared a sense that there must be a better approach, and ideally a digital one which would require nothing more than the scan of a bar-code for instance. When a quick look about the marketplace revealed that no such application existed, Bawte was born.
TechStars:
Foremost among the questions from both Colwell and the audience was the TechStars experience. Somewhat to Jackovin's surprise, Bawte had risen to a level of notoriety that attracted the attention of TechStars, a leading start-up accelerator with a world-wide network of offices including Boulder Colorado where Jackovin was invited to audition. With considerable reluctance at the thought of leaving home, wife and children for the 3 month immersion which is life in an accelerator, he never-the-less decided to follow the opportunity, ultimately being chosen as one of the handful from among thousands who sought admission, and with that took up residence in Boulder to begin a process which compresses a year's worth of business development into 3 months while testing the mettle of those involved.
"In hindsight it was great, while I was going through it, it was absolutely awful. There were many times when the thought of a 9 to 5 job was very appealing," he remembers of 12 hour days spent in continuous pitches followed by relentless critiques which often contradicted one another and often confused and taxed the rationality of the entrepreneur. "No matter how masochistic you are, you cannot push yourself through a process like they're able to do," he observed, admitting that left to his own he would have quit long before accomplishing what he ultimately did accomplish.
"I can definitely say that me personally, the business, and the product have come out stronger than we went in," he says noting that their approach to the product and how they pitch the product have undergone significant refinement alongside a near complete product redesign. And though un-stated, it is clear that the products founder now has a confidence in his product and self, forged under fire, which will be a key factor in future success.
Melissa:
Meanwhile back in Des Moines while John Jackovin was laboring in Boulder, Melissa Jackovin, his wife, stepped into the spotlight, and stole the show. Jackovin had entered Bawte in the Rise of the Rest completion sponsored by AOL Founder Steve Case and visiting Des Moines in October. The competitions pitch day unfortunately fell the day before demonstration day at TechStars and there was no way John could be in Des Moines, so enter Melissa. Initially declining, but ultimately acquiescing, Melissa took a remote crash course in not only the pitch presentation, but also the multitudinous questions that might follow the presentation. As those in the room who saw it agreed, her performance was outstanding and she bested the other very experienced presenters, securing a $100,000 investment from Case for Bawte.
Boulder:
In response to an audience request that he contrast the Boulder start-up scene with the Des Moines ecosystem, Jackovin shared some frank and insightful comments. Observing that the presence of noted entrepreneur and investor Brad Feld is a valuable catalyst, he also observed that there was a more conducive business culture in Boulder. "Established businesses really, really support start-ups. The mind-set is very much different, it is give first," he said explaining that legal and financial advice for instance was plentiful and free without strings or expectations as businesses understood that success for start-ups would continue the success of established entities.
So, as a result, he was asked why come home? In a typical Iowa "aw shucks" manner this serial entrepreneur declared himself a homebody who never considered leaving Des Moines. "I think it's important to come home, as an entrepreneurial community we struggle to reach that critical mass and I would not want to be one to detract from that effort." An audience populated by many fellow successful Des Moines tech entrepreneurs seemed to give testimony in agreement.